Livonia Metal yard, Auto-Salvage is located at:
12600 Stark Road
Livonia, MI, 48150
United States
(734) 266-2700
Get Directions
Livonia Scrap Metal Recycling and Automotive Recycling Services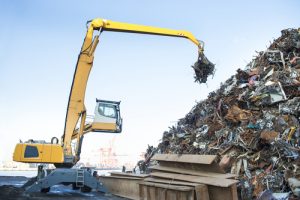 Recycling scrap metal and selling junk cars for cash makes a huge impact on the environment. The amount of metal on earth is fixed. We can't make more, but we can recycle and reuse what we have already mined. Melted down metal from scrap is almost identical to newly refined metal. Recycling steel, aluminum, copper, and other metals allows us to conserve our natural resources and save energy.
GLR Advanced is a leader in purchasing ferrous metal and non-ferrous metal, as well as cars and car parts for scrap metal recycling.
Automobiles are one of the most recycled consumer products in the world. Did you know that 80 percent of your car can be recycled? In the United States alone, nearly 12 million cars are recycled each year. Get cash for your junk car and you can walk away knowing that you've helped preserve the planet for future generations.
Ready to sell your junk car?  Our facilities are conveniently located across Michigan. In addition to scrap metal, our Livonia facility also purchases cars. We work with consumers and walk-in scale customers. We also use state of the art technology, so you know our prices are fair and competitive.
About Livonia:
Located in northwest Wayne County and part of the Detroit Metro area, Livonia is a large suburb surrounded by several metropolitan area freeways. Livonia is home to a number of public and private colleges, including Madonna University, Schoolcraft College, and the University of Phoenix.
Helpful Resources in Livonia:
Livonia City Hall
33000 Civic Center Dr.
Livonia MI 48154
(734) 466-2200
Livonia Police Department
15050 Farmington Road
Livonia MI 48154
(734) 466-2470
Livonia Fire Department
14910 Farmington Road
Livonia MI 48154
(734) 466-2444
St. Mary Mercy Hospital
36475 Five Mile Road
Livonia MI 48154
(734) 655-4800
Livonia Public Library
32777 Five Mile Road
Livonia MI 48154
(734) 466-2491
For more information about Scrap Metal or Junk Car Recycling, call or visit our Livonia location. We look forward to working with you to make the world a little "greener"!
12600 Stark Road
Livonia, MI , 48150
United States
(734) 266-2700