Scrap metal recycling is big business in Warren. Warren scrap metal seekers can be seen driving down city streets on garbage nights looking for barbeques, siding and other metal items that can be recycled. Not only is scrap metal recycling a great way to earn money, it's also a wonderful thing to do for our environment.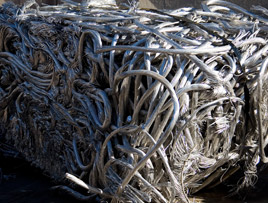 Each year consumers and corporations use and toss millions of tons of metal. Recycling metal benefits the environment in a number of ways. Metal recycling conserves energy rather than deriving it from raw materials. Recycling metal has been shown to reduce greenhouse gas emissions, generate less mining waste, and conserve water. Because a limited amount of metal ore is available on our planet, recycling helps us to preserve valuable resources.
GLR Advanced is a leader in purchasing metal that can be recycled. We pay current market values for the material you bring in. for Not only do we accept ferrous metal and non-ferrous metal, we also purchase vehicles and car parts, such as radiators and catalytic converters. Non-ferrous metals include aluminum, copper, brass, nickel, tin, lead, zinc, gold and silver. Ferrous metals, which contain iron include steel (alloy, carbon, stainless), along with cast iron and wrought iron.
Our Roseville location is next to the City of Warren and accepts all types of metals including automobiles. GLR Advanced services cities throughout Michigan and many communities within Macomb and Oakland counties.
About Warren:
Warren is Michigan's third largest city in terms of population. Located in Macomb County, the southernmost part of the city borders Detroit. Warren is home to a number of business and corporations. General Motors Global Technical Center, which serves as the hub of the company's engineering efforts, has been located in the Warren since 1956. Other major corporations located in Warren are Chrysler Group, U.S. Army TACOM, General Dynamic Land Systems, Asset Acceptance, and Art Van Furniture.
Helpful Resources in Warren:
Warren Police Department
29900 S. Civic Center Blvd
Warren, MI 48093
(586) 574-4700
Warren Fire Department
23295 Schoenherr Rd
Warren, MI 48089
(586) 756-2800
St. John Macomb-Oakland Hospital – Warren Campus
11800 E Twelve Mile Rd
Warren, MI 48093
(586) 573-5000
Warren City Hall
1 City Square
Warren, MI 48093
(586) 574-4500
Warren Community Center (Parks and Rec)
5460 Arden
Warren MI 48092
(586) 268-8400
For more information about Warren Scrap Metal Recycling, call or visit our Roseville location. We look forward to working with you to make the world a little "greener"!