GLR Advanced "Complete Recycling Solution" encourages our clients to recycle all metal materials. In fact, the steel industry overall depends on recycling for making new products. Every new steel product has some recycled content. This type of material can be very profitable to our customers.
GLR Advanced has been a family owned, industry leader in scrap metal recycling for over 85 years. GLR Advanced recycles a wide variety of metals both ferrous and non-ferrous from large commercial customers, as well as the everyday consumer.
Ferrous metals include, but are not limited to, cast iron, steel, and mixed iron. Non-ferrous metals comprise a vast array of alloys including aluminum, brass, carbide, copper, lead, stainless steel, tool steel, and many more. GLR Advanced Metal Yards are premier facilities featuring easily accessible metal scales, convenient public drop-off hours, and friendly, knowledgeable staff ready to assist and direct you through our scrap metal purchasing process.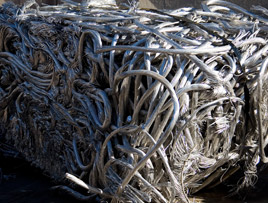 Every year the scrap recycling industry transforms more than 130 million metric tons of waste materials into re-usable raw materials. The result of these efforts is a reduction in greenhouse gas emissions and energy expenses, reducing industrial costs and landfill contributions. That's why GLR Advanced has a long history of being so strongly committed to scrap metal recycling.
For decades we have provided trades people and independent collectors scrap metal drop-off services. We strive to offer convenient, environmentally friendly solutions for unwanted scrap metals for communities. GLR Advanced also specializes in working with businesses of any size to develop complete metal recycling solutions for all facets of your organization.
GLR's transportation team services businesses and professionals near and far, providing dependable trucking and roll-off services for your recyclable metals. We also perform on-site evaluations of materials to help maximize your GLR is a passionate proponent of helping residents and businesses develop best practices for recycling at home and the office. We work alongside the community to teach and aid in implementing stronger recycling programs. However, as a company we not only teach these practices, we live them as well.
Every GLR Advanced facility has expansive in-house recycling programs. Likewise, every facility is committed to operating "greener" by continually striving to minimize waste production wherever possible. At GLR Advanced we know you have options for scrap metal recycling. That's why we utilize the latest technology to provide current, competitive metal pricing. We pay top dollar for your scrap metals! Since GLR Advanced takes pride in our scrap metal recycling efforts, we are honored to say that since opening our doors we have partnered with thousands of residents, businesses, and municipalities to ensure the recycling of tons and tons of scrap metal! We look forward to forging a working partnership with you, too!
---
The Facts
Environmental Benefits of Recycling Scrap Metal


The Environmental Protection Agency (EPA) reports metal material disposal accounted for only about 8% of the municipal solid waste generated in 2007 in the United States. That comes out to about 20 million tons. Of that, the United States recycled approximately 7 million tons of ferrous and non-ferrous metals, which only equates to about a 35% recovery rate. In 2007, non-ferrous metals were among the highest percentage in recovery rates at approximately 69%. This was mostly due to the 99% recovery rate of lead in lead-acid batteries.
And when it comes to the recovery process, most of the water used in steel-making is recycled (about 95% according to the Steel recycling Institute or SRI), so water is typically returned cleaner than it was when taken from its source. The agency estimates this eliminated greenhouse gas emissions equivalent to removing more than 4.5 million cars from the road for a period of one year.
Recycled metals account for a large part of the country's overall supply. One statistic shows that every 2 out of 3 pounds of steel made in the United States derives from ferrous metal scrap. Non-ferrous scrap metal recycling in particular is an important part of resource conservation. Reports reveal that recycling copper metal-based materials produced more than 30% of the world's copper source in 2005, and used significantly less energy than mining virgin elements from the ground.
In fact, nearly all hazardous waste once made by the steel industry is now recycled for beneficial use. Steel typically produces less waste output when used in building homes. SRI reports that using steel frames to construct a house generates only enough waste from a construction site to fit into one garbage can. And steel is the most recycled material in the world, says SRI. But only the North American steel industry has been able to increase production and reduce energy demands at the same time.