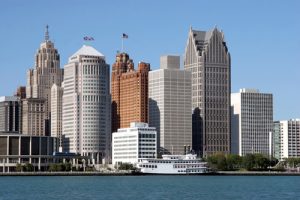 Did you know that junk cars are the #1 recycled product? While you may be done with the vehicle that's taking up space in your garage or lamenting the car that was totaled in a car accident, over 85 percent of the material in a junk car is recyclable. You can do right by the environment by selling your junk car in Detroit. The inner workings of your car to be used for scrap metal – and you can make some money from a car that you thought was only going to make you bleed money.
Recyclable Parts of Your Junk Car in Detroit
Below are just some of the elements of your junk car that are still potentially valuable for recycling purposes. The presence of these parts could increase the free quote you get when you contact a scrap yard or recycling center to sell your car:
Engine
Transmission
Relatively new battery (and the lead inside)
Starter (for the copper)
Catalytic converter (composed of rare metals)
Alternator (for the copper)
Working air conditioning compressor
Air bag components
Bumpers
Mirrors
Doors
Body panels on late-model cars (if undamaged)
Tires with good tread
Built-in GPS
High-end sound system
Body and frame (steel)
It's easy to think that a car that no longer runs or requires too many repairs isn't worth a penny. But it is. If you're a talented mechanic and can dissemble your junk car and sell the parts one piece at a time, you're in a sweet spot. You can still get cash for recycling your car, make a few bucks selling the individual elements, plus you do the environment good and support other mechanics who rebuild vehicles.
Many junk car owners, however, don't have the time or ability to remove valuable car parts and create a menu of available items for sale. Don't lose out – do some research about the parts of your vehicle. Then seek out a recycling facility that will discuss your vehicle in depth and offer a respectable quote in return based on the elements that are still part of your junk car.
Why You Can Earn Money by Recycling Your Junk Car
When you are ready to get rid of your junk car in Detroit – whether it's a car, truck, SUV, or otherwise – you want to look for a recycling center that buys all makes and models, in all conditions. Even if your car has been totaled in an accident, even if the car doesn't run and hasn't for a long time, your junk car has value. How?
The steel industry is dependent on recyclable materials like junk cars. New products made of steel or that contain steel components are created in part because of the recycling of junk cars. Unloading your junk car not only pads your pockets, it is an environmentally friendly choice. You are minimizing your carbon footprint by passing your junk car on to an operation that knows the proper way to reuse and recycle its parts.
GLR Advanced Recycling buys all makes and models of damaged vehicles or junk cars. If you can't come to us, we'll come to you. We are the highest-paying car buyer in southeast Michigan and have recycling facilities throughout the state. By operating on a "green" level, we minimize waste production, and that includes recycling your junk car. Contact GLR to get a free quote when you're ready to sell your junk car.