Each year, Americans use about 70 million tons of paper and paperboard.
Much of this is attributed to the publishing of more than 2 billion books, 350 million magazines, and 24 billion newspapers. This equates to almost 50% of landfill waste being credited to un-recycled paper products!
Great Lakes Recycling strives to be Michigan's leader in the collection and processing of paper from recycling. Did you know that in addition to easily recognizable paper products, recycled paper fibers are used to manufacture more than 5,000 other products?
Household items such as masking tape, paper money, bandages, coffee filters, and egg cartons couldn't be produced without paper fibers. That said, only 37% of the fiber used to make new paper products in the US comes from recycled sources. That's why GLR is committed to raising awareness and access to recycling solutions for paper products.
As a long-time leader in recycling, GLR specializes in processing many different grades of paper from both commercial businesses and consumers. We recycle old corrugated cardboard, mixed papers, high grade deinked paper, and pulp substitutes. State of the art sorting and baling equipment are key elements in our efficient recycling processes.
Every GLR paper recycling center is a premier facility featuring a full-service center, convenient public drop-off hours, and friendly, knowledgeable staff ready to assist and direct you through the paper recycling process. Likewise, each GLR paper recycling facility services our customers in a clean and safe environment.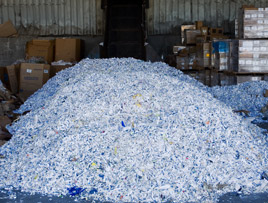 GLR also specializes in working with businesses of any size to develop complete paper recycling solutions for all facets of your organization. GLR's transportation team services businesses and professionals near and far, providing dependable trucking for trailer or roll-off services for your recyclable paper. We also perform on-site evaluations of materials to help maximize your specific recycling solutions.
GLR is a passionate proponent of helping residents and businesses develop best practices for recycling at home and the office. We work alongside the community to teach and aide in implementing stronger recycling programs. However, as a company we not only teach these practices, we live them as well. Every GLR facility has expansive in-house recycling programs. Likewise, every facility is committed to operating "greener" by continually striving to minimize waste production wherever possible.
Efforts to create and maintain a cleaner, enjoyable, and sustainable environment for future generations are a team effort. GLR is ready to be your partner by providing your paper recycling solutions for a "greener" tomorrow!