2125 Turner Ave NW
Grand Rapids, MI 49544
(616) 312-2400
Get Directions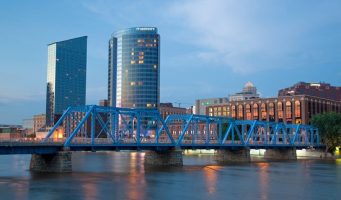 Have you been holding out on buying a new car? If you've been nursing your old junker along, dumping oil into it or duct taping the bumper up, then it may be time to consider selling your junk car for cash instead. While your old junker may not seem like it's worth much anymore, the fuel, batteries, and tires can all be recycled. Cars and trucks are some of the most recycled items. Each year approximately 4 million cars are recycled in the U.S. and Canada.
A dealership may only offer you pennies on the dollar for your junk car, but GLR Advanced in Grand Rapids will pay you cash on the spot when you sell your junk car to us. Not sure if your car qualifies? Here are a few things to help determine if your vehicle is a junk car.
First, is it damaged or inoperable? Many of the junk cars we purchase have severe body damage, rust, or broken axles. Second, if it will cost more to get your car fixed than what it's worth, you've probably got a junker. Finally, how old is the license and registration? If it's months, or even years past the expiration date, you're probably looking at a junker. We buy junk cars in any condition and can help make the transition easy and seamless.
If you're ready to bid your junk car good-bye, then it's important to make sure you clean it out. You don't want to leave any important papers or valuables behind. Next, bring your title in with you and stop by our auto salvage yard in Lansing with your junk car. If it doesn't run, then give us a call and we'll give you a quote over the phone, once you accept our offer, we'll send a tow truck over to pick it up.
GLR has several locations across Michigan. We accept both metal and cars. Using the most up to date information, we'll pay you what your car is worth. Contact our Grand Rapids auto recycling team for any questions you may have.
About Grand Rapids
Grand Rapids is the second largest city in Michigan. Formally known as Furniture City, Grand Rapids was once home to five of the work's leading office furniture companies. Today, it is more economically diverse with health care, information technology, automotive, aviation, and consumer good companies headquartered here. Perched along the Grand River, Michigan's longest waterway, Grand Rapids has also become well known for its craft breweries. Mostly recently it was voted 'Best Been Town' in America by USA Today readers, with ten of the nation's best craft brewers located here.
Helpful Resources in Grand Rapids
Grand Rapids City Hall
300 Monroe Ave NW
Grand Rapids, MI 49503
(616) 456-3000
Grand Rapids Police Department
1 Monroe Center St NW
Grand Rapids, MI 49503
(616) 456-3400
Grand Rapids Fire Department
LaGrave Street Station
38 LaGrave Ave SE
Grand Rapids, MI 49503
(616) 456-3900
Spectrum Health Blogett Hospital
1840 Wealthy St SE
Grand Rapids, MI 49506
(616) 774-7444
John Ball Zoo
1300 Fulton W
Grand Rapids, MI 49504
(616) 336-4300
Grand Rapids Children's Museum
11 Sheldon Ave NE, Grand Rapids, MI 49503
(616) 235-4726
Frederik Meijer Gardens
1000 E Beltline Ave NE
Grand Rapids, MI 49525
(616) 957-1580
For more information about selling your junk car for cash, call or visit our Grand Rapids location. We look forward to working with you to make the world a little "greener"!