Sell My Scrap Car: Get Cash for Your Junk Car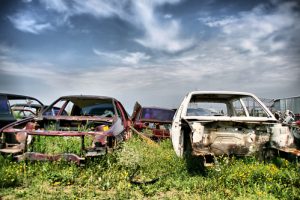 Don't let that scrap car sit in your garage, yard, or driveway any longer and take up space. You're not stuck with a junk car forever. What you might consider a heap of metal is another person's recycling dream. No matter what condition your junk car is in, call GLR and say, "I'm ready to sell my scrap car."
Get Cash on the Spot for Your Scrap Car, Guaranteed
No matter the appearance or condition of your truck, car, SUV, or otherwise, it's worth something. We accept scrap cars of any make and model.
You can bring us your junk car. Or, if you dread the effort of taking your scrap car to another location to unload it, we come to you. We will send a tow truck to pick up your vehicle at your convenience, free of charge. Even after-hours towing is available. Either way, we pay you on the spot for your car's worth.
If your vehicle fits into any of the following categories, it still has value to GLR:
Doesn't run
Won't start
Needs a jump
Needs body work
Electrical problems
Bad transmission
Old fuel pump
Knocking motor
Bad alternator or starter
Overheats
Exhaust problems
Totaled
Runs and drives without any problems
 Get the Highest Amount of Money When You Sell a Scrap Car
GLR is the highest-paying scrap car buyer in Southeast Michigan. If you want to know what your car is worth:
Call us for a free quote

855-620-5865

.
Fill out our online form for an immediate quote.
Email us with details about your scrap car and get a free quote in response.
It's our goal to get you the most money for your scrap car. If you want to sell your scrap car to GLR:
We will calculate the best way to get you the most money for your scrap car.
We will schedule a tow truck to pick up your scrap car within 24 to 48 hours.
You get paid cash at the time of pick-up.
Don't Forget the Details When You Sell Your Scrap Car
If you are selling a junk car, you need the title. Misplaced it? Can't find it? We'll tell you how to reclaim your scrap car's title when you get in touch with us for your free quote.
Want to Donate Your Scrap Car? And Make Money Now?
It is honorable to donate your scrap car to charity. You'll get a tax write-off and can finally wash your hands of that junk car. But, guess what – you can enjoy the pleasure of getting cash in your pocket right now AND still do a good thing for charity.
Tell GLR which charity you want to help and our company will contribute on your behalf. Tax discount for your donation. Cash in hand right now. You can't lose.
Unload Your Scrap Car and Help the Environment
Owning one scrap car or many scrap cars is a burden. It's taking up space physically and mentally, even if you don't realize it. If you're thinking, "I want to sell my scrap car," go with it. Getting GLR's help to get rid of your vehicle is an environmentally friendly way to recycle a vehicle that can no longer be of service to you.
And not only are you being friendly to the earth, the economics of the situation mean that you'll get money for your scrap car too.
Let GLR help you clear your property and fill your wallet. Whether used and usable, old and clunky, or completely totaled, your ride interests us. Contact GLR by phone, email, or online to find out how we can help you scrap your car, and pay you for the opportunity.